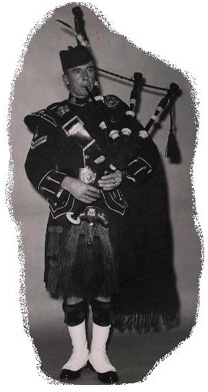 On April 21, 1995 the Ontario piping community lost an ardent supporter and a good friend.  Before coming to  Canada in 1947, George resided in Glasgow, where he started piping with the Boys Brigade.  He played with a number of bands in Scotland.  These included the Cabar Feidh, Stewart and Lloyd's and Clan MacRae Pipe Bands.
After emigrating to Canada he joined the Dofasco Pipe Band.  He later joined the Argyll & Sutherland Highlanders of Canada Pipe Band, under P.M. John Wilson, where he rose to the rank of Pipe Sergeant.  He retired from the band in 1967.
George was well known in Ontario as a dedicated teacher of the pipes and a composer of many tunes.  He was a loyal supporter of the Niagara-Hamilton Branch of the Pipers' and Pipe Band Society of Ontario.
George will be remembered fondly by his many friends and pupils.  His keen wit will be unforgettable to those of us who  knew him.  He was never without a story or wee joke.
George Sherriff's unfailing support of many generations of young players has helped contribute to the legacy of successful piping in Ontario.  This contest is named in his honour.